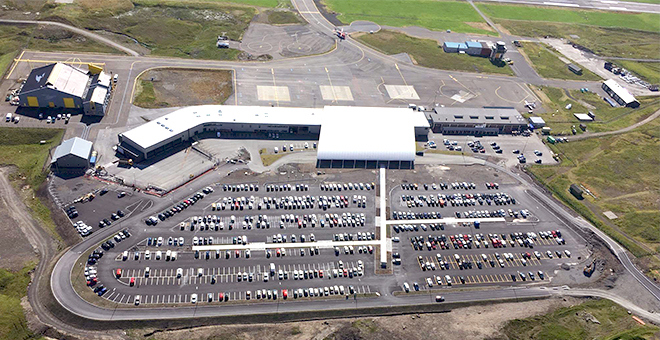 Parking
Travellers are welcome to use the parking area of Vagar Airport.
The first two hours of parking are free of charge and after this you'll be charged according to the daily parking fees, which you can see below: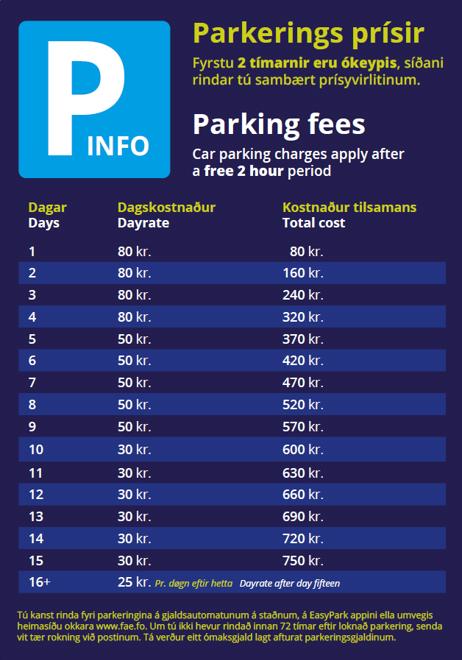 Payment options
We are offering three payment options for using our parking service:
Payment machines
Our home page (option not available at the moment)
EasyPark app
Payment machines 
You will find 2 self-service payment marchine kiosks in the airport area – one right inside the terminal and the other one outside in the parking area walk tunnel. With the payment machines we are accepting international credit cards.
Homepage
If you missed your payment before leaving the parking area, you have the option to pay via our homepage (using Chrome browser), following the payment link (or pressing banner below) and entering your license plate number. Note that this payment option is only valid within the first 72 hours after leaving the parking area.
EasyPark app
This payment option is recommended to frequent travellers using the parking area at Vágar Airport. The EasyPark app is an easy way to automatically handle your parking payments. The EasyPark app is available on App Store and Google Play. EasyPark offers parking services in several European countries, thus you can use the same app for this purpose.
In addition to the regular parking fee, EasyPark charges a 15% service fee (max 19 DKK) per parking.
When signing up for EasyPark, you are asked to accept their terms & conditions and privacy policy, including giving consent for processing personal data as license plate and payment card information. Note that your personal data will be processed within EU. Customers are recommended to read EasyPark's privacy policy prior to using the app, either in the app or on this link.
EasyPark Denmark is the formal data controller handling your personal data in the app. On the Faroe Islands, EasyPark Denmark is represente by Mr. Kári Davidsen (kda[a]faroelaw.fo).
Tel. +298 35 44 00


Map of Vágar Airport's parking areas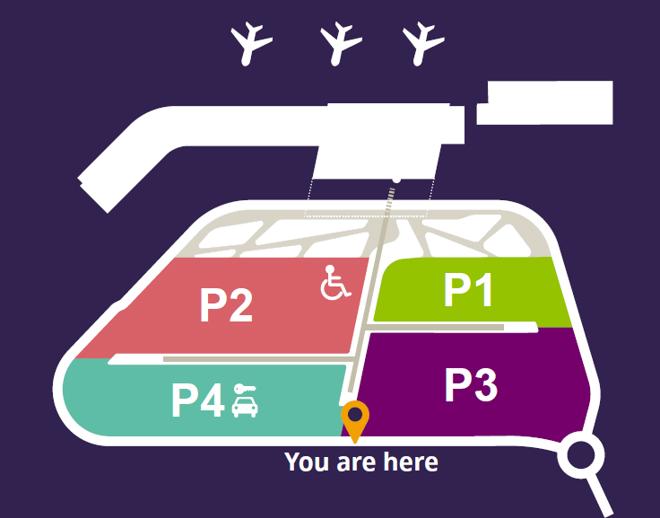 Privacy policy
When using our parking facilities, Vágar Airport is processing personal data as informed in our Privacy Policy.