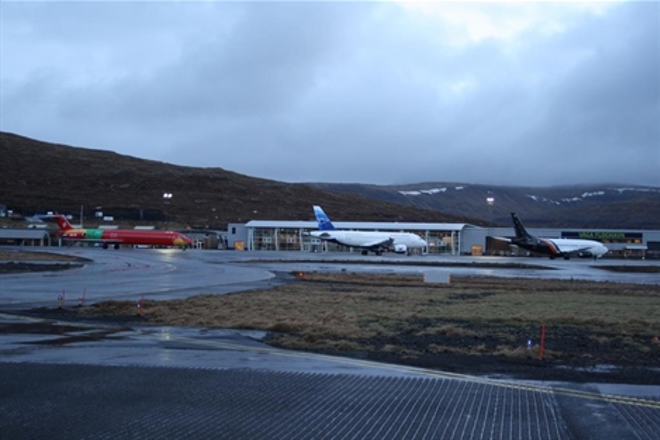 07/04/2015
First three months a record-breaker for Faroe Islands airport
MARCH 2015 was the busiest March ever in the history of the Faroe Islands Airport, figures released today show.
 
All told, 22,604 passengers passed through the terminal on the Faroe Islands, the highest monthly March total in the history of the airport. The figure was some 47 per cent higher than for March 2014.

So far 2015 has seen a rise of 16.4 per cent, or 50,821 passengers, compared with 2014. Total growth was 6,0 per cent in 2015, taking the total paxfigures of Vagar Airport over annual 250,000 passengers.
Solar eclipse on the Faroe Islands
On the 20th of March, the Faroe Islands experienced their first total solar eclipse for more than 60 years. Atlantic Airways increased their frequency and the rotations of their A319´s and other operators like Danish Air Transport using a MD83 and Titan Airways with a Boeing 737´s. Other operators used Falcons, Challengers, Embraer and other. The MD83 is currently the biggest passenger-aircraft to have landed on the Faroe Islands

"This was a major test for the airport to show existing and new operators that the extended runway, the new navigational instruments and the new terminal could manage the variety of aircrafts and the influx of new aircraft types, new operators and many first time tourists to the airport," said Jákup Sverri Kass, CEO at Vagar Airport.
Keen to build on success
After a few years with investments in the airport, in Faroese tourism and the following growth of the passenger-figures at the airport, Vagar Airport is keen to build on the success of the last few years.

"In March, we lowered our passenger fees with 12 per percent, we have given big rebates to new routes announced by Atlantic Airways and we have announced big investments that will improve both the parking facilities at the airport and further improve regularity at the airport", says Jákup Sverri Kass, CEO at Vagar Airport.
New possibilities
Since the runway was extended, Atlantic Airways has changed their fleet and it now consists of three A319´s. Other operators have used the runway for ad hoc charters and have done so with success.